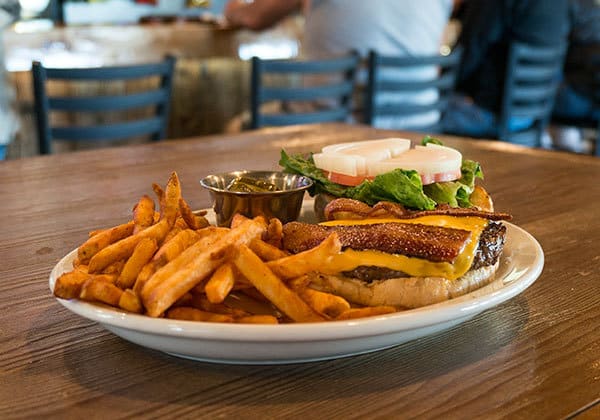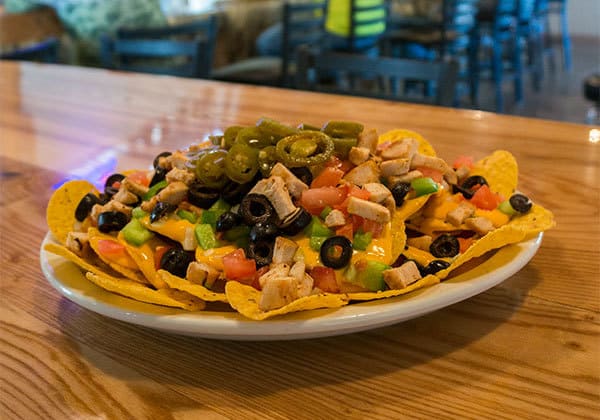 Burgers
Our hamburger is never frozen and locally processed, our Bushy's 1/3 lb. hamburger is simply outstanding. You can add cheese or bacon for extra amount.
Make it a Basket...with Curly or Straight Cut French Fries for $1.50 more
Cheese Choices: American, Cheddar, Swiss, Pepper Jack and Mozzarella. Add Lettuce, Tomato, Pickle or Onion (fried or raw) at No charge. Extra Cheese add $0.50, Extra Bacon or Ham add $0.75, Pretzel Bun add $1.00
Bacon Cheese Burger

$6.75

Double Cheese Burger

$8.25
Signature Burgers
Make it a Basket...with Curly or Straight Cut French Fries for $1.50 more
Our Bushy's hamburger topped with smoked beef brisket, sauteed onion and Swiss cheese. Finished with our Burgundy BBQ sauce

Our 1/3 lb. Bushy's hamburger topped with our famous slow roasted Prime Rib, thick cut bacon and Swiss cheese

Beef Patty, fried onions, fried mushrooms, brisket, ham, bacon, American and Swiss cheese

Pepper Jack, Swiss, jalapeno, mushroom, bacon, fried onion
Sandwiches
Make it a Basket...with Curly or Straight Cut French Fries for $1.50 more
Grilled Ham & Cheese

$5.00

Grilled Chicken Sandwich

$6.50
Signature Sandwiches
Make it a Basket...with Curly or Straight Cut French Fries for $1.50 more
Perfectly tenderized and sliced, our choice prime rib is exploding with fried onions & grilled mushrooms, then broiled on a Hoagie bun in a bath of Swiss Cheese

Slow cooked, grilled with our barbeque sauce and paired with our homemade apple cider vinaigrette coleslaw on a toasted bun

Thin sliced Corned Beef stacked with sauerkraut, 1000 Island and Swiss Cheese on a grilled Marble Rye bread

This sandwich starts with a Pretzel bun loaded with slow roasted, thinly sliced Corned Beef. We top that with a blend of sauteed bacon, pepperoni, mushrooms and jalapenos. As if that's not all, your choice of 2 cheeses. Our House made sauce complete this creation. This one is truly THE BOMB!

Grilled Chicken on a Kaiser bun, featuring sautéed mushrooms, bacon, American cheese and ham

Grilled Gold 'n' Plump chicken combined with bacon, mushrooms and shredded cheese. Topped off with our valley sauce, lettuce and tomato, then sealed in your choice of jalapeno cheddar or sun-dried tomato basil wrap. Add some jalapeno for an extra kick!
Starters & Sides
Sauces: BBQ, Honey Mustard, Valley Zing, BBQ Ranch, Sweet Chili, Ranch, Southwest or Hot Sauce
Deep fried breaded mushrooms with ranch dressing

4.5 oz. of Kaufhold's Kurds lightly breaded, simply the best

Six pieces of premium chicken wings served with your choice of sauce. Bone-in or Boneless

Three pieces of 3 oz. white meat chicken served with your choice of sauce

Your choice of Thick Cut Steak fries or Seasoned Curly Fries

A slightly sweet change from our regular French fries

Six of our cream cheese filled Poppers served with sweet chili sauce

Your choice of Pulled Pork or Chicken; Tortilla Chips, Nacho Cheese, Onions, Green Peppers, Tomatoes, Black Olives and Jalapenos

Brew City Beer battered onion rings served with our southwest ranch

Bite sized morsels of a hard shell taco

Ten pieces of perfectly deep fried shrimp with no tails served with our sweet chili sauce
Large Dinner Salads
Made The Way You Want It.

Chicken:  Grilled or Crispy
Vegetables:  Black Olives, Green Olives, Green Pepper, Red Pepper, Jalapenos, Mushrooms, Onions, Pineapple
Dressings:  Ranch, 1000 Island, Italian, Blue Cheese, Sweet Chili, French
Pizza
We offer a thin crust with a homemade marinara. Build your own starting at 12"- $10.50 or 16"- $13.50 (Includes Cheese). Additional toppings 12"- $0.50 or 16" - $0.75. Choose any combination of our 13 toppings
Meat

Bacon, Canadian Bacon, Chicken, Pepperoni, Sausage

Vegetables

Black Olives, Green Olives, Green Pepper, Red Pepper, Jalapenos, Mushrooms, Onions, Pineapple
Signature Pizza
Last Call

$14.50 - 12 inch

$18.50 - 16 inch

Onions, Mushrooms, Sausage & Pepperoni

Meat Lovers

$14.50 - 12 inch

$18.50 - 16 inch

Sausage, Canadian Bacon, Bacon & Pepperoni

Deluxe

$14.50 - 12 inch

$18.50 - 16 inch

Onions, Mushrooms, Sausage, Green Pepper, Pepperoni, Black Olives

Newcomb

$14.50 - 12 inch

$18.50 - 16 inch

Ranch Sauce replaces Marinara Sauce with Grilled Chicken, Mushrooms, Bacon, Cheddar and Mozzarella Cheese

Pizza Fries

$7.00 for Large

$6.00 for Small

Don't Forget our Pizza Fries
Kid's Menu
$4.25 Each. All items are Served with a Small Portion of French Fries